INJURED IN A SLIP AND FALL?
Slip and Fall Lawyers in Colorado Springs
King & Beaty are slip and fall lawyers in Colorado Springs that have a proven record of success in the Pikes Peak region.  If you are seeking a settlement for slip and fall injuries call now to speak with an experienced attorney 719-505-9999.
In the movies and on TV, slips and falls are often used for comic effect. In the real world, however, such accidents are anything but funny and can have serious and tragic consequences.
When someone trips or slips and is injured because a property owner failed to keep their premises safe and free from hazards, the victim may have a claim for compensation.
At King & Beaty, LLC Personal Injury Attorneys in Colorado Springs, our premises liability attorneys represent those who have suffered because of the failures of negligent property owners, getting them compensation that can help them recover and get back on their feet.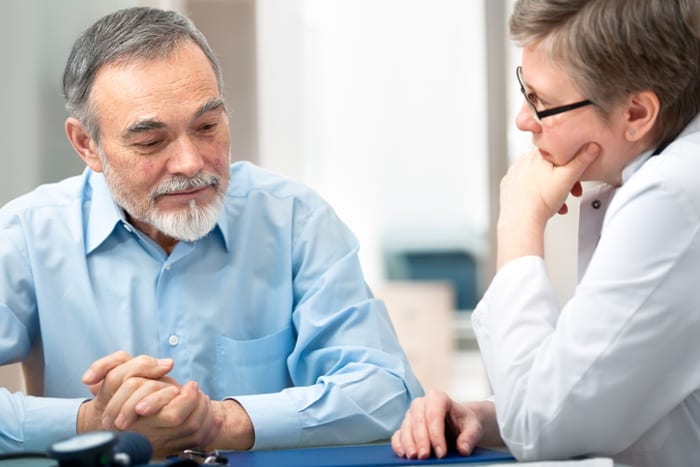 How Slips, Trips and Falls Happen
If you've been hurt in a slip and fall or trip and fall, you are not alone. Hundreds of thousands of Americans are seriously injured in such incidents every year. According to the Centers for Disease Control and Prevention:
Over 700,000 Americans are hospitalized each year because of a fall injury.
One out of five falls causes a serious injury such as broken bones or a head injury.
Falls are the most common cause of traumatic brain injuries (TBI).
Each year, 2.5 million American seniors are treated in emergency rooms for injuries caused by a fall.
Colorado Premises Liability Law
Falls can happen any time and almost anywhere. Sometimes, they can happen because of conditions that have existed for a long time, such as cracked or substandard sidewalks, dangerous stairs or railings, or poor lighting.
Other times, falls are caused by conditions that have developed more recently but have not be addressed by the property owner, such unremoved snow, ice, or debris on a sidewalk or in a parking lot, a spill in a grocery store or restaurant that hasn't been fully cleaned up, or an object dropped on the floor of a store.
When a property owner or other responsible parties fail to maintain their property in a reasonably safe condition, someone who has been injured as a result may have a claim for compensation against the owner based on the legal concept known as "premises liability."
The Colorado Premises Liability Act governs claims for slips and falls and other injuries on someone else's property, and limits the time for bring such claims. But whether you will be able to recover any damages for your injuries depends on many often-complicated factors.
This includes why you were on the property and whether you had the right to be there, which will determine what kind of duty the property owner had to keep you safe.
Under Colorado law:
A trespasser may recover only for damages willfully or deliberately caused by the landowner.
A licensee – someone who has been invited onto the premises for a non-business or commercial purpose, such as a social guest – may recover only for damages caused:

by the landowner's unreasonable failure to exercise reasonable care with respect to dangers created by the landowner of which the landowner actually knew; or
by the landowner's unreasonable failure to warn of dangers not created by the landowner which are not ordinarily present on property of the type involved and of which the landowner actually knew.

An invitee – typically a customer or patron at a store or business – may recover for damages caused by the landowner's unreasonable failure to exercise reasonable care to protect against dangers of which he actually knew or should have known.
King & Beaty are experienced slip and fall attorneys
In order to recover damages in a Colorado premises liability lawsuit for slip and fall or trip and fall injuries, it must be proven that the owner failed to meet the appropriate standard of care under the law, and that the claimed injuries happened because of the landowner's breach of that duty.
This requires the skills and experience of a Colorado premises liability lawyer who has a thorough understanding of the law and knows how to build the most powerful case possible.
At King & Beaty, LLC, our slip and fall attorneys fight tirelessly to help individuals who have suffered serious injuries because of negligently maintained property.
We know how painful and challenging even basic activities can be after a trip and fall or slip and fall, and understand the stress that comes from enormous medical bills, loss of earnings, and decreased mobility. That is why we are committed to getting victims the resources and compensation they need to recover.
If you've had a slip or trip and fall on someone else's property and have suffered injuries as a result, give King & Beaty, LLC a call at (719) 505-9999 or fill out our online form to arrange for a free assessment of your case. We look forward to assisting you.
CALL TODAY (719) 505-9999
100% Free Consultations
Call to schedule your free consultation with personal injury attorneys David Beaty and Trent King.
Get a free initial consultation with a personal injury lawyer. No matter what kind of accident or injury.
At King & Beaty, your loss is not just a case or a lawsuit. We know your pain is deep. We offer our commitment to you and your family as well.
If you've been injured in a vehicle or traffic accident, the insurance company is not your friend. Let us help advise you.
We are committed to doing everything we can to get compensation and comfort for those dealing with brain injuries, and we have a solid track record of doing so.
Don't let a split and fall from negligence derail your life. Get the compensation you deserve to cover your pain and suffering.
If you have been injured as a result of a careless or negligent property owner, then King & Beaty can help you to rebuild your life after your injury.
At King & Beaty, LLC we're here to help you. That's why we take your questions seriously. You can call us at 719-505-9999 to schedule a free consultation with our personal injury attorneys Trent King or David Beaty. Gain peace of mind. Call us today.
King & Beaty LLC
3260 E. Woodmen Road, Suite 200
Colorado Springs,
CO
80920
719-505-9999
Personal Injury Law Firm
FAX: (719) 344-2340
info@kingandbeaty.com