Brain Injury Attoney Colorado Springs
King & Beaty are brain injury attorneys in Colorado Springs experienced with representing individuals and families throughout the Pikes Peak area.  If you or someone close to you suffered a traumatic brain injury as a result of careless behavior by another person, company or government entity, you may be entitled to compensation.  Call now to find out if you have a claim 719-505-9999.
So much of who we are, what we experience and feel, and how we live our lives depends on our brain.
When someone suffers a serious brain injury, their life and those of their loved ones can be forever changed. The person who once was, the relationships that once were, and the day-to-day routines and simple joys of living that we can take for granted – all of these can be destroyed by a catastrophic brain injury.
Those who suffer from a brain injury may lose motor skills or the ability to communicate, and they may not be able to work again or even take basic care of themselves. Meanwhile, their families must focus their energy, time, and resources on caring for their loved one and helping them get better; a disruption and burden that can cause financial, emotional, and psychological challenges for all involved.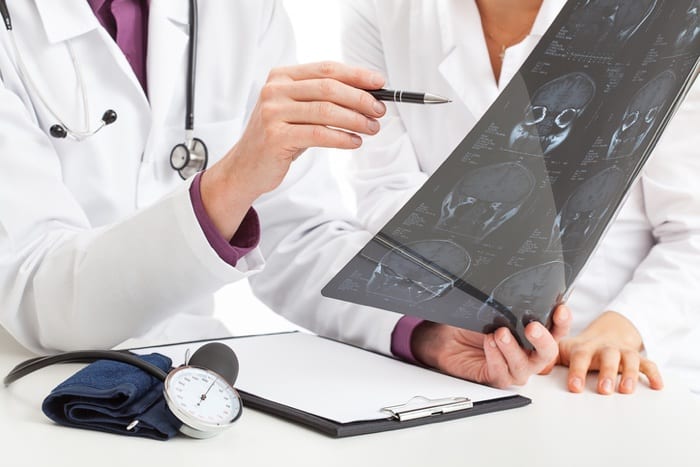 A brain injury not only changes a victim's life, but the lives of their family as well. 
These are not challenges that any family should face alone. When a severe head injury is caused by someone else's negligence, recklessness, or intentional conduct, those responsible should be held accountable, and the family whose lives have been turned upside-down should be able to get compensation that can help them with their losses.
At King & Beaty, LLC, our traumatic Colorado Springs brain injury attorneys have seen first-hand the struggles that follow when the brain is severely damaged. We know what families need during this difficult time, and we have the commitment, personal investment, and experience to help them with the medical bills, costs of ongoing care, lost wages, and pain and suffering caused by a brain injury.
What is a Traumatic Brain Injury?
A traumatic brain injury (TBI) is a catastrophic form of brain damage caused by an external force striking the head, such as the skull making impact with the ground or other hard surface or an object piercing the skull to penetrate the brain. According to the Centers for Disease Control, an estimated 1.7 million Americans suffer from a TBI each year.
These catastrophic injuries, which are often accompanied by debilitating and serious spinal cord injuries, can be caused by any number of events, including:
Car accidents
Assaults and gunshots
Work and construction injuries
Boating accidents
Motorcycle accidents
Sports injuries
Slips and falls
Some of the more severe TBI symptoms include paralysis, impaired speech, loss of motor skills, coma, personality disorder, and compromised reasoning ability.
Brain injury victims may need to undergo many surgeries, extensive therapy, or require constant care.
When you are looking are looking for a brain injury lawyer or spinal injury attorney to assist, guide, and advocate on your behalf, it is critical that you find a lawyer who thoroughly understands the complicated legal and medical issues involved in such cases.
It is also vital that your brain injury lawyer has an intuitive appreciation for your concerns and needs. Recovering from a brain injury often requires lengthy and costly surgeries, treatment, and ongoing rehabilitation.
Whole teams of medical professionals, such as physical therapists, psychologists, neurologists, and chiropractors can become part of the process. Assistance and continuous care may need to be provided indefinitely, and physical changes often must be made to the home.
That is why we not only fight in court and at the negotiating table to get you the compensation and resources to pay for such needs, we also offer guidance in dealing with insurance claims, disability benefits, educational issues, and other practical and financial aspects of living with a serious brain injury.
Call King & Beaty Today to Arrange for Your Free Initial Consultation
At King & Beaty, brain injury victims and their families are treated with respect and compassion. We pride ourselves on being accessible 24/7, available to answer any questions and ease any concerns. We are committed to doing everything we can to get compensation and comfort for those dealing with brain injuries, and we have a solid track record of doing so.
If you or a loved one has suffered a serious brain injury or spinal injury due to another's negligence, reckless, or intentional conduct, please give the Colorado Springs brain injury attorneys at King & Beaty, LLC a call at (719) 505-9999 or fill out our online form to arrange for your free initial consultation. We look forward to assisting you.
CALL TODAY (719) 505-9999
100% Free Consultations
Call to schedule your free consultation with a Colorado Springs personal injury attorney at King & Beaty, LLC.
Get a free initial consultation with a personal injury lawyer. No matter what kind of accident or injury.
At King & Beaty, your loss is not just a case or a lawsuit. We know your pain is deep. We offer our commitment to you and your family as well.
If you've been injured in a vehicle or traffic accident, the insurance company is not your friend. Let us help advise you.
We are committed to doing everything we can to get compensation and comfort for those dealing with brain injuries, and we have a solid track record of doing so.
Don't let a split and fall from negligence derail your life. Get the compensation you deserve to cover your pain and suffering.
If you have been injured as a result of a careless or negligent property owner, then King & Beaty can help you to rebuild your life after your injury.
At King & Beaty, LLC we're here to help you. That's why we take your questions seriously. You can call us at 719-505-9999 to schedule a free consultation with our personal injury attorneys Trent King or David Beaty. Gain peace of mind. Call us today.
King & Beaty LLC
3260 E. Woodmen Road, Suite 200
Colorado Springs,
CO
80920
719-505-9999
Personal Injury Law Firm
FAX: (719) 344-2340
info@kingandbeaty.com